|<This article needs development. Help by adding to it.>
Sally.exe Continued Nightmare is a 2D platformer game made in Game Maker created by Jaiz Koys. It is the second game released of the Nightmare Series. It was released in 2017, and it can be downloaded here or here.
It takes place after the Bad ending of the game preceeding it: Sonic.exe Nightmare Beginning. Like its predecessor, it is an attempt to redo the story as well as the gameplay to differ it from the original. An updated version of the game named "Sally.exe Continued Nightmare: Eye of Three" was made later. The game is technically still canon, but in the form of a simulation.
Gameplay
[
]
To be added...
Story
[
]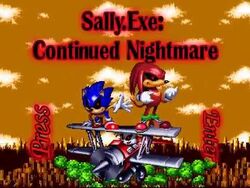 To be added...
Endings
[
]